Surf Camp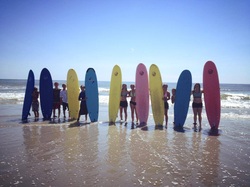 Q - What ages do you teach at surf camp?
A - We teach all ages. We only require that the kids are comfortable in the ocean, and can swim enough to stay in the water next to their surfboard.
Q - Do I need to bring a surfboard?
A - No. We provide everyone a surfboard and have a variety to fit everyones size.
Q - Is surf camp only for the residents of Stone Harbor?
A - No. Surf Camp is scheduled by the Stone Harbor Recreation Department, but anyone can attend.
Q - How many times do we need to sign up for surf camp?
A - You can come for one class, or as many as you'd like. More classes, more fun.
Q - If it rains, is Surf Camp still scheduled?
A - Yes. Unless there is severe weather or lightning, we still have the scheduled camp lessons. We follow the instructions of the Lifeguards at the 81st St beach.
Q - Where do we sign up for Surf Camp?
A - Surf camp is schedule by the SH Rec Department at 82nd & 2nd Ave. Sign up there- and try to a day or two before you want to attend. These classes are very popular and fill up quickly.
Private Surf Lessons and Special Event Planning
Q - Surf Camp looks like a lot of fun, but I'm looking for something more unique and personalized. What options do you offer?
A - We offer one on one, and group private lessons. Check out our Rental and Lessons page here
A - We also provide the most fun your birthday party, sweet sixteen, family reunion, wedding party or private event could ever ask for. Contact the shop at 609-368-1500 ask for Matt, and we can discuss some great ideas for a most novel and memorable event.
Rental Boards
Q - What time are daily rental boards due back to the shop?
A - Unlike other shops that rent Surfboards and Paddle Boards, our rentals are for 24 hours. Take advantage of keeping it overnight so you can surf or paddle in the ocean before or after the lifeguard shifts, at the beach you choose.
Q - Where are the surfing beaches during the lifeguard hours?
A - Surfing beaches are on 81st and 110th Street in Stone Harbor, and 30th Street in Avalon. These beaches are also protected by the Lifeguards during their regularly scheduled hours.
Q - What options and prices are there for rentals?
A - Check out our Rental and Lessons page
here
Wetsuits
Q - Do you only carry wetsuits for surfing?
A - No, we have wetsuits for all your water sport needs. We are the region's largest factory direct retailer for Henderson USA based in Millville NJ and carry suits for surfing, paddle boarding, triathlons, jet skiing and commercial fishing. We also carry a wide section of boots, gloves, swimming caps and goggles.....We've got everything that helps you get wet.
Q - I have an unusual body shape and have a hard time finding wetsuits that really fit; what size selections do you carry?
A - We have all sizes ranging from the smallest of toddlers, to all mens and womens sizes. Since we are a direct retailer from a local manufacturer, if we don't have what fits you, we can get just about anything in a matter of days. Stop in, try one on, and if we can't fit you off the rack, we'll get it delivered in no time at all.
Q - Do you rent wetsuits?
A - Sorry, but we
Do Not
rent wetsuits. Just like other undergarments or personal protection gear, cleanliness and hygiene are just as important to us, as they are to you. All of our wetsuits are new and have never been used before. Once you see our discounted prices, you'll see that its way better to own one.
Repairs
Q - Can I wait while you repair my board?
A - Of course that all depends on what's broken. We have a wide selection of leashes and fins, and in most cases we'll have it installed and get you back in the water right away; there's no charge for these types of installation services. However - board dings are another matter. All repairs are expertly repaired right in our shop. The amount of time this will take depends on two issues - (1) the extent and depth of the damage, and (2) how dry the board is. If the board just came out the water, we'll need to wait for it to dry out before we can get started on it.
Used Boards
Q - I'm ready to get another surf board and want to trade in the one I have. What options do I have?
A - Depending on the type, size and condition of the board you have, we always try to work out a fair trade in value. Since we specialize in beginners, we enjoy watching surfers develop their intermediate and then advanced skills. We'll help you get the right board to fit your skills.
Q - I want to buy or sell a surfboard, but don't need a new one; can you help?
A - Once again, depending on the board, we might be able to find it a new home. Generally speaking we do not buy soft top beginner boards, but stop by and tell us what you've got in mind. As for buying a used board - we usually have a great selection of surfboard and paddle boards. Since we're the island's only full service surf shop, we have lots of friends and customers who consign or sell their used boards to us. Stop in often to check out the used inventory - since we only buy the best, they don't last long.
---